FEATURED CHEFS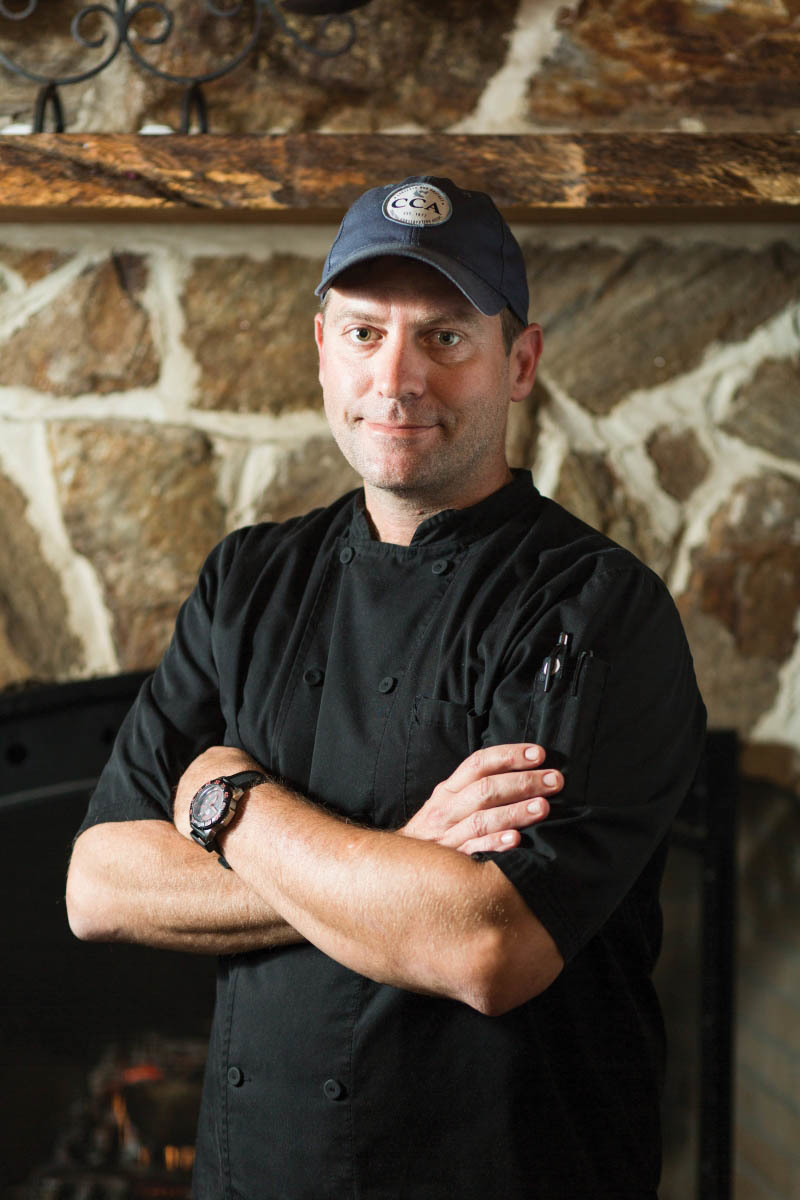 Chef Jeremiah Matthews....
Fine dining is no longer reserved for Saturday date nights at white tablecloth establishments. Chef Jeremiah Matthews offers fresh ingredients and haute cuisine cooking techniques in a laid-back setting at his new Daphne eatery. Matthews is a familiar face in Baldwin County, having steered the stoves at The Colony in Fairhope and Jesse's in Magnolia Springs. His efforts have earned him a loyal following along the way. When the opportunity fell in his lap to take over a space on Highway 98 and create a concept from the ground up, he jumped. Southwood Kitchen was born.
Matthews is well traveled and well educated, culinarily speaking. He got his start in restaurants as a kid, washing dishes and working the line, then quickly found focus and attended culinary school at the esteemed le Cordon Bleu in Paris. He worked in Michelin-starred kitchens there and sharpened his knives in the Burgundy and Dijon regions as well before settling back in the States. A stint as a backcountry chef in Wyoming sharpened his creative process — how, in the middle of the mountains, do you cook a world-class meal with only ingredients that were packed in on horseback?
Southwood Kitchen melds classic French preparations with bold creativity, decidedly Southern ingredients and seafood straight out of the Gulf. Matthews adds that most true Southern dishes have French ancestry, so it is a natural combination. Every protein listed on the menu has a farm name printed alongside it, a testament to his goal of offering fresh, high quality local ingredients. Although the staff takes great pains with the food, the dining experience is comfortable and casual. The word "approachable" comes up again and again. There are no tablecloths, no reservations, no pretension. Prices are also accessible.
The dinner menu changes daily. Whatever fresh local seafood, meat and vegetables are available that day inspire his creations, so don't expect to have your favorite dish every single time. There is always a prime steak available, although it's often not printed on the menu. You need to ask for it, "like a super-secret club, " he laughs. This is the kind of place where it pays big to try something new, so go out on a limb and see what the chef has in store!
By:  Maggie Lacey
 Mobile Bay Magazine
Bacon-Wrapped Elk or Venison Loin with Chimichurri
Bone-in chops make a striking impression at the table, but boneless works just fine.   
8 slices bacon 
1 elk or venison loin (back strap) bone-in or boneless, about 3 pounds
salt and pepper, to taste
1. Lay out bacon as individual pieces and allow to come up to room temperature. Season loin with salt and pepper, to taste. 
2. Preheat oven to 400 degrees. Begin wrapping loin with bacon, starting from one end and making sure the edges of the bacon overlap. Stick it with toothpicks where the bacon ends meet. If working bone-in, just work around the bones, leaving them exposed.
3. Sear in a large cast-iron pan, then finish in oven for 15 – 18 minutes, until medium rare. Allow to rest, then slice and serve with chimichurri. Serves 6
Pickled Garlic Chimichurri
12 cloves pickled garlic, chopped
2 bunch cilantro, chopped
2 bunch parsley, chopped
1/2 red onion
1 ounce red wine vinegar
1 tablespoon salt
1 tablespoon fresh oregano
1 cup olive oil
Juice of 2 lemons
1/2 teaspoon fresh ground black pepper
1. Combine in small processor, pulse until smooth but slightly chunky. Serve immediately or store in an airtight container in the refrigerator until use. Makes 2 cups
Southwood Kitchen
1203 Hwy 98, Suite 3D
Daphne, Alabama 36526